The type of CBD product you choose should come down to what exactly you need to get out of the product. But before deciding, know that not all CBD are created equal. When reading each product description, look out for the following terms: full spectrum, broad spectrum, and isolate. To make it easier to understand let's compare it to a burger, do you want a regular burger with just meat? Or do you want it with cheese and all the other fillings? The same goes for full spectrum, broad spectrum, and isolate. 
Full spectrum – refers to CBD extracts that contain all naturally occurring compounds found in cannabis plants, including terpenes (what gives marijuana its unique smell), flavonoids, and other cannabinoids. In other words, full spectrum has it all, which includes THC. Sometimes referred to as 'whole plant CBD', full spectrum CBD oils or tinctures processed from hemp never exceed 0.3 percent THC so it cannot make a person high. (In Hong Kong, you'll usually find it in ingredients for topical applications like body serums and oils).
Broad spectrum – refers to CBD extracts almost the same in full spectrum CBD, except that THC is removed after the compounds have been extracted from the plant. 
Isolate – refers to CBD extracts that only contain CBD. They don't contain terpenes, flavonoids, or any other cannabinoids.
CBD comes in many forms –  If you're ok with the taste of liquid drops under your tongue, then high-grade oil or tincture products are suitable for your consumption. If you want to skip the vegetal and earthy taste, you can opt for pills, capsules, gummies, and food-infused products like chocolates, cookies, and other treats.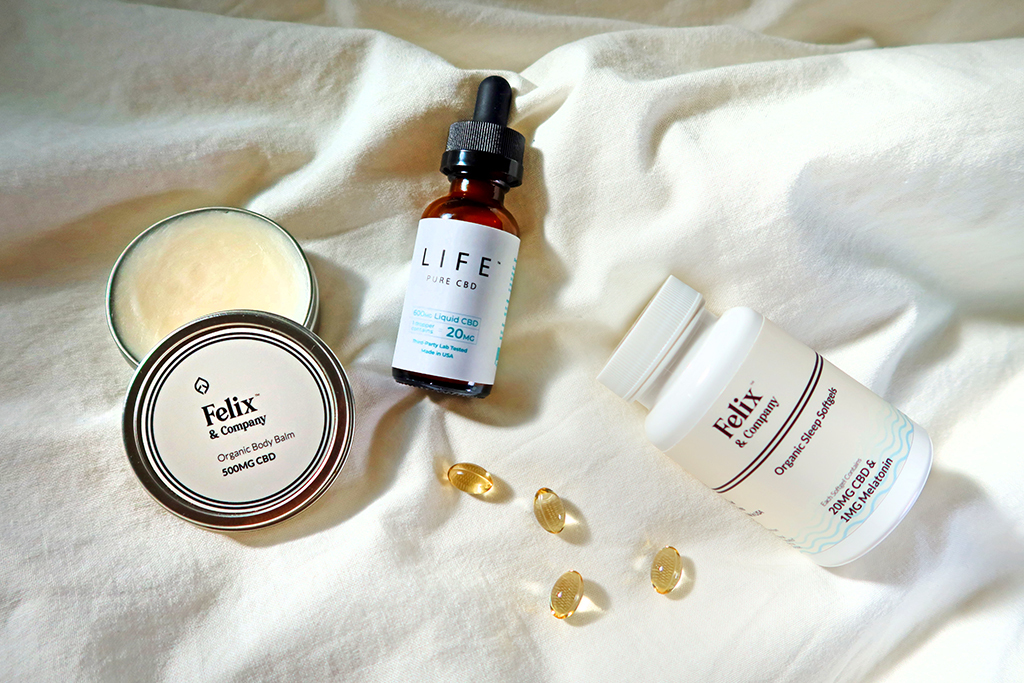 Topical and digestible CBD products
"For customers who are buying CBD for the first time, we recommend starting with a CBD tincture. It is the classic type of CBD product and one of the most straightforward to use," says Mullen (Altum). "One simply uses the dropper to place some CBD oil under their tongue, leave it there for 30 to 45 seconds (to allow absorption) and then swallow the rest of the oil," he adds. 
"We recommend titrating your dose," Dobson (Treaty) shares. "Start low and go slow. Titration is the process of determining the medicinal dose that reduces symptoms to the greatest possible degree. Titrating requires consistently and slowly increasing the daily dose you take. This practice helps to develop mindfulness and strengthens the relationship one has to our health," she adds.  
For topical applications, products with CBD include serums, lotions, creams, balms, or body wash. Choosing depends on what you expect from the product but always opt for high-quality products from reputable manufacturers. As with any skincare products, avoid harmful ingredients, and opt for ones that are free of pesticides, and heavy metals. 
"For CBD, it is important that it is clean and thoroughly tested," says Georgeson (Saint Jane). "The hemp plant, where CBD is extracted from, is a bio-accumulator – which means that it soaks up all the toxins and other harmful chemicals that are often present in the soil. It's essential to use CBD that has been grown with meticulously clean standards from seed to bottle," she explains. "Saint Jane is a clean beauty brand, that means that all of our products and ingredients are 100 percent free of toxins, harmful ingredients, and pollutants," she explains. "We sustainably source our materials and test our formulas for integrity and efficacy. To ensure the highest quality, we publish all of the third party lab tests with complete transparency." 
Source: https://www.timeout.com/hong-kong/shopping/an-introduction-to-cbd-and-products-available-in-hong-kong